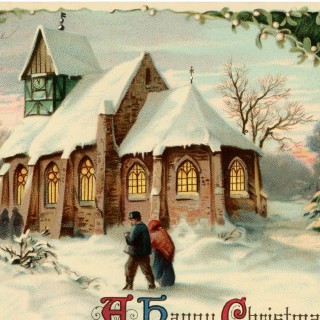 The joyful sounds of Christmas carols being sung at every turn
is sure to bring gladness and joy into our hearts
as we prepare with anticipation the birth of our Savior, Jesus Christ.
For myself, this Christmas season has been one where I have yearned
with-in my own heart to worship the King,
to bow down on bended knee in the presence of His Holiness.
It seems as if daily I find myself humming or singing,
"O come let us adore Him."
~
I was reading in my Zondervan Pictorial Bible Dictionary
that public worship consisted of ~ preaching ~ reading of Scripture ~
prayer ~ singing ~ baptism ~ the Lord's Supper and alms giving.
"Worship ~ Bow down, when given to God, worship involves an acknowledgement
of Divine perfections. It may express itself in the form of
direct address, as an adoration or thanksgiving, or in service to God;
and may be private or public.
Worship presupposes that God is, that He can be known by man,
and that His perfections set Him far above man."
I visited a small town near where I live and they were having a sale at their Library;
so of course I wandered towards the area where the old books were located
and came across an old dictionary that was printed in 1931.
I love dictionaries, especially the older ones.
This dictionary speaks well of worship ~
"Adoration, devotion, aspiration, heavenly-mindedness, spiritual-mindedness,
vow, homage, service, kneeling, genuflection, prostration,
prayer, praise, offering, divine service, honor, revere, idolize, admire."
These are just a few of the words used to describe worship in this dictionary.
******
"Now when Jesus was born in Bethlehem of Judea in the days
of Herod the king, behold, there came wise men from the east to Jerusalem.
Saying, where is he that is born King of the Jews?
for we have seen his star in the east, and are come
to worship him." (Matthew 2:1-2)
~
Christmas has come to mean many things: family, love, gift-giving,
service, celebration, joy, and so much more ~
all are certainly worthy expressions of a multifaceted event;
but as we look to the birth of Jesus, may we not forget
or overlook our worship of the One who is worthy to be praised.
A King worthy of worship has been born, and when Simeon,
the godly saint in Jerusalem who was looking for the Messiah,
first held the baby Jesus in his arms, he blesses (praised) God
in a beautiful prayer of praise. (Luke 2:28-32)
As we look at the first ones in Scripture and their response
when they saw the newborn King,
may we find ourselves like minded bowing down in worship and adoration
of our newborn King, our Savior, Jesus Christ the Lord.
Jesus seeks true worshipers ~
"But the hour cometh, and now is, when the true worshipers
shall worship the Father in spirit and in truth:
for the Father seeketh such to worship him.
God is a Spirit: and they that worship him
must worship him in spirit and in truth."
(John 4:23-24)
Those who are wise still seek and worship Jesus today.
******
"O come let us worship and bow down:
let us kneel before the Lord our maker."
Amen.
Dear friends ~ From my heart to yours,
I wish for you a Christmas filled with the joy of the Lord!
My prayer is that your heart will be filled with the Psalms as you sing unto the Lord
and worship Him, with your whole heart.
Have a most Blessed and Christ centered Christmas ~
Be Joyful!
~ Debbie ~